Resurrect Your Elders: Roadkill Brings a 1968 Dodge Charger Back to Life [Video]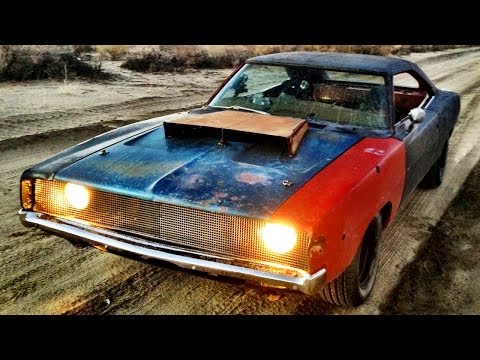 Taking the engine and transmission out of one vehicle and putting it into another vehicle – specifically one that was originally designed to accommodate that same type of engine – should be a straightforward and fairly quick process. However, if you're familiar with the Roadkill series and co-hosts/Hot Rod editors David Freiburger and Mike Finnegan, that isn't necessarily the case. And so it was when Freiburger got it into his head that he wanted to get one of his umpteen-dozen project cars, a drivetrain-less 1968 Dodge Charger, back on the road.
Between playing musical cars at a storage lot, locating a motorhome to donate its engine (and stopping at a driveline shop within spitting distance of one of our relatives' auto repair shop; seriously, between this and frolicking around in the Santa Anita horse track parking lot, we're fairly convinced they're stalking us), wrestling said engine out of said motorhome, yanking the transmission and other bits from a 24 Hours of LeMons racecar and then getting it all to work together, it was quite the ordeal. But if you ask us (and Dave and Mike, for that matter), it was all worth it in the end. Better still, the provided irrefutable proof that you don't need to take the "Hurr-durr General Lee clone!" route to have fun with a second-gen Dodge Charger.
Source: YouTube
---
---
Comments