Ian Callum's Jaguar Mark II Resto-Mod is the Cat Daddy [w/ Video]
When you're a high-ranking executive at a car company, odds are decent you'll have at least one cool car (likely made by that same company at some point in its history) in your possession. The odds of this seem to be even better if you're the head of that company's design department. And if you're the head of an OEM's design department and also happen to be a serious car geek – two things that describe current Jaguar Design Director Ian Callum – well, you basically have to have at least one killer ride in your personal fleet.
And the 60-year-old Scot does not disappoint. He already had a sweet 1932 Ford Three-Window Coupe built in the traditional hot rod style, but he also wanted something that was manufactured by his current employer. That's where the Jaguar Mark II you see before you comes into play. Callum worked hand-in-hand with Classic Motor Cars (a vintage Jag restoration and customizing shop in the English county of Shropshire) for a year-and-a-half to bring this project to fruition. While the classic mid-size sedan's basic shape remains intact, Callum dreamt up numerous detail tweaks and updates (such as body-hugging painted bumpers and twin central tailpipes) to bring this British icon up-to-date for the 2010s. The bang-on stance is the product of 17" wire wheels and a 1.2" lower ride height.
Power for this regal resto-mod comes from a hot-rodded 4.3L example of Jaguar's immortal XK-series inline-six, which sends power rearwards through a more modern 5-speed manual transmission. That combination should get this car moving along at a pretty good clip, though not so good that you'll be too busy hanging on for dear life to appreciate the luxurious interior, which features updated gauges and switches, a state-of-the-art stereo/entertainment system, and a herd's worth of red leather. It's enough to make realize why the C-X75 and F-Type turned out looking as great as they do.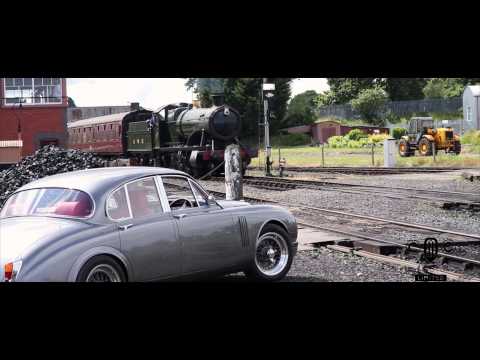 Source: Classic Motor Cars
---