GRMN Sports FR Concept Platinum Toyota 86 is a Supercharged and Turbocharged Temptress [w/ Video]
The small, rear-wheel drive sport coupes jointly developed by Toyota and Subaru – sold within these borders as the Scion FR-S and Subaru BRZ – aren't on the receiving end of much criticism. Rightfully so, if you ask us. But one thing that almost everyone who has driven a Toyobaru asks for is more power.
Well, Gazoo Racing has taken this criticism to heart. One of the favored tuners and competition car preparers of the Toyota factory (and not in any way connected with the little green guy that only Fred Flintstone can see and hear), Gazoo Racing has a street vehicle tuning arm called GRMN. And GRMN has given one lucky Toyota 86 – the Japanese version of the Scion FR-S – a comprehensive makeover.
This stylish silver concept, which is dubbed the Sports FR Concept Platinum, features a comprehensive exterior restyling package. The front bumper and fenders, hood and headlights are replaced with reshaped versions, giving this tuned Toyota a face with a decidedly mid- to late-'90s look; think Z32 generation Nissan Z, Mitsubishi FTO or Toyota's own fourth-gen Supra. The new taillights also hearken back to the Mk. IV Supra (but their housings are square rather than ovoid), but the bold rear bumper with quad exhaust tips and towering rear wing are firmly grounded in the 21st century. The rear quarter panels and the rocker panels are widened, the wheel arches are filled with bespoke 18" split-spoke alloy wheels wrapped in sticky Bridgestone tires, and the suspension and brakes have been upgraded.
Upgrades to the interior are similarly performance-centric. The stock seats are replaced with deeply bolstered racing shells (that are upholstered in black and white leather to match the door panels and steering wheel), and the driver and front passenger are held in place by multi-point racing harnesses. And in case things turn pear-shaped when exploring the outer limits of grip, there's a full roll cage.
And things can turn pear-shaped a lot more easily with all the extra power this thing is packing. GRMN fitted the Sports FR Platinum Concept's 2.0L flat-four with both a turbocharger and a supercharger. The idea is that the supercharger will provide instant boost at low revs, while the turbo takes over at higher rpm when it's spinning quickly. This twin-charging concept has been used before in production Volkswagen Group products and the Lancia Delta S4 Group B rally car, and in the case of this Japanese pocket monster it nets 325hp and 317 lb.-ft of torque, or 125hp and 166 lb.-ft more than a stock FR-S. Now we're talkin'! Naturally, the engine's power gets sent rearward through the Toyobaru siblings' 6-speed manual transmission.
So will any or all of these bits and pieces be available to consumers at some point? Gazoo isn't saying, but considering how hot the Toyobarus are with tuners already, the firm would be foolish to not put as many of these parts as possible into production.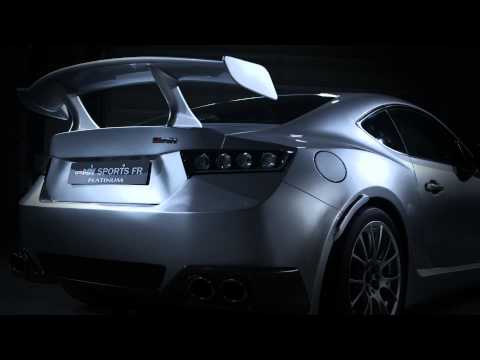 Source: GRMN
---
---
Comments