Ferrari F12 TRS is a Raucous Retro Roadster [w/ Video]
Although compelling arguments can be made in favor of the 1960s, the 1980s and even the present day, the 1950s is widely accepted as the golden age of sports car racing. Factory programs from Jaguar, Maserati, Mercedes-Benz, Lancia, Aston Martin and Ferrari contested the World Sportscar Championship at various points throughout the decade, giving rise to some truly iconic cars. Perhaps none of those cars was more iconic than the Ferrari 250 Testa Rossa, which came onto the scene in 1957.
A loyal and fabulously-wealthy Ferrari collector recently wondered what a modern take on that legendary front-engine sports racer would be like, and commissioned the company to create a vehicle to provide him with an answer. The result is the F12 TRS you see before you. As the name and proportions imply, it's based on the production F12berlinetta. However, nearly every exterior panel of that V12-powered beast has been reshaped and massaged, though the biggest change is of course the removal of the coupe-only F12's roof. The continuous line than runs around from the windshield header, around the tops of the door windows and into the tonneau cover pays homage to the same line found on the 250 Testa Rossa's final evolution, the 250 TR 61 Spyder Fantuzzi that won the 1961 24 Hours of Le Mans.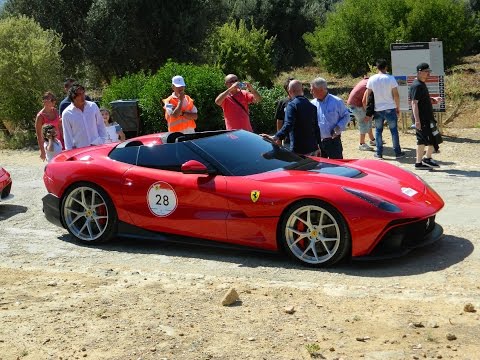 Of course, the winning drivers from that year (Olivier Gendebien and Phil Hill) didn't have a 6.3L V12 producing 730 horsepower and sending power rearward through a 7-speed dual-clutch transmission. Nor could their TR 61 sprint from 0-62 mph in 3.1 seconds. Then again, the F12 TRS will never compete in – much less win – the biggest endurance race in the world, so it kinda evens out…
Source: Ferrari
---