E30 Hairy: Turbocharged Early BMW 3 Series Serves up Cheap Thrills [Video]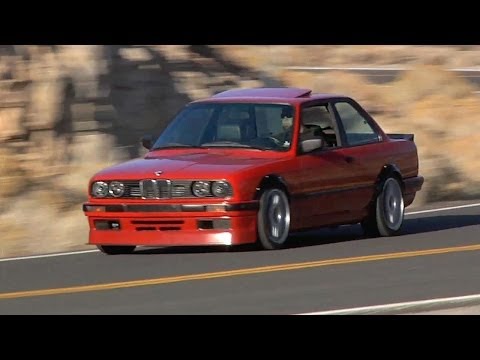 If there was an official car of the yuppie movement of the 1980s ("yuppie" being a portmanteau of "young, "urban" – or "upwardly-mobile" – and "professional"), the second-generation BMW 3 Series (chassis code E30) would absolutely, positively be it. Offered in the U.S. market in three body styles (sedan, coupe and convertible; tragically, we never got the wagon) with a sizable selection of inline-four and inline-six engines, the E30 had all the prestige and pleasant driving dynamics that BMW buyers expected, but at a price that wasn't out of reach for someone who was fresh out of Wharton and just starting out at a doomed S&L.
But, as the old saw goes, that was then and this is now; today, non-M3 E30s in average condition are cheaper than a reality show ratings booster stunt, and surprisingly plentiful. Those two attributes are great news for folks who like what young Nevadan Kameron Baker has done with his hand-me-down '89 325is two-door. As you can see, it's turbocharged, flared, slammed and all kinds of sick.
Source: YouTube
---
---
Comments