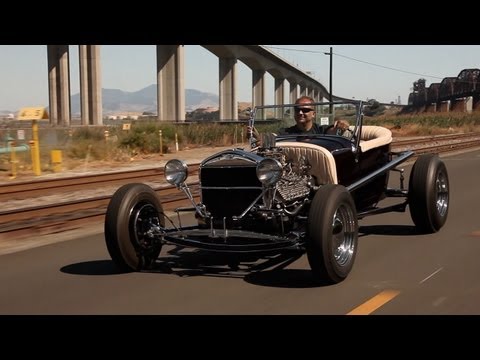 Although few of us like it, the fact remains that in the case of some vehicles, compromises were made in the name of enhancing the looks, performance, or both of those vehicles. However, if we had to pick one area of compromise that we disliked the most, it would probably be that of ergonomics. A car can be stupid fast and look fantastic, but if the act of driving it involves significant physical discomfort, what's the point?
Well, in the case of Anji Ramsey's 1922 Ford Model T hot rod, one of the points is it's a part of her family history. Her grandfather turned this humble roadster into the sweet street rod (with power from a later Ford Flathead V8) it is back in the 1940s, and it later passed through the hands of her uncles. Never mind that Big Muscle host Mike Musto – all 6'4" of him – has to drive it from the passenger seat; how many hot rods (or any cars, for that matter) can legitimately qualify as family heirlooms?
Also: Be sure to watch until the very end of the video to see how Musto and his production crew – which includes camera operator and Sub5Zero alumnus Zack Klapman – handle a freight-train-sized predicament.
Source: YouTube