BMW Vision Gran Turismo is This Generation's Batmobile [w/ Video]
After months of radio silence (and at least one slipped deadline), the makers of Gran Turismo 6 have finally emerged from their bunker. And instead of seeing their shadow and consequently indicating six more weeks of winter, er, spring, they've announced some not-too-shabby new downloadable content for this month. Coming May 27th is the Ayrton Senna Tribute pack which, in addition to the previously announced 1985 Lotus-Renault 97T Formula 1 car, will also include Senna's 1978 DAP go kart (which he drove in his first European races) and the 1985 versions of Brands Hatch and Monza, where your challenge will be to meet or beat the Brazilian demigod's actual pole position lap times from that year in the 97T. Way cool, and hopefully this will open the door to more historic circuit variants showing up in GT games in the future.
Don't think you can wait until the 27th for new GT6 content? You don't have to. Included with the latest update for the game (Version 1.07) that dropped today is the second car to be released as part of the Vision Gran Turismo initiative. It's simply called the BMW Vision Gran Turismo, and it's considerably less radical than arch foe Mercedes-Benz's submission. In fact, it's based on the charming new 2 Series coupe…but it has very, very little in common with the 228i and M235i you'll find at your local BMW dealer.
The wild widebody kit would look plenty wild on its own, but the three-color BMW M stripes draped all over the car take it to a whole new level. The stripes, the big fender flares, the wings atop the back window and the trunk are all callbacks to the company's wild 3.0 CSL "Batmobiles" that competed in touring car and GT racing in the mid- to late-1970s. The BMW Vision GT manages to strike what we think is an ideal balance between retro and modern, though there's not much retro about its 541 horsepower, 598 lb.-ft 3.0L twin-turbo inline-six. That kind of oomph ought to make it a handful on the Nürburgring Grand Prix Course, which is where the new Seasonal Event time trial that awards the BMW Vision GT takes place. Don't say we didn't warn you.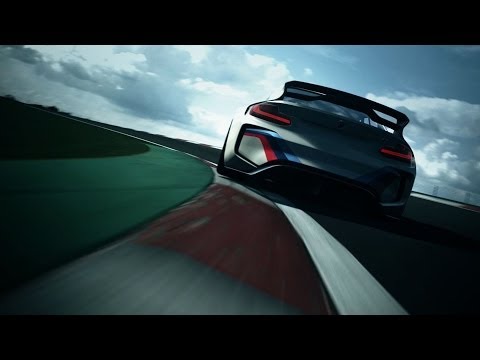 Sources: Gran Turismo, BMW
---