918 and Life: Chris Harris Tests the New Porsche Supercar [Video]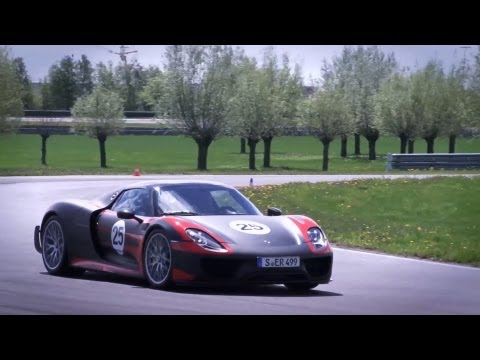 Not even 24 hours ago we brought you the skinny on the production version of the Porsche 918 Spyder, Stuttgart's shapely plug-in hybrid hellraiser. It looks wicked cool (particularly with the flashback-fabulous Weissach Package), and puts up staggering performance and economy numbers, but how does it look (and, more importantly, sound) when in motion? The one and only Chris Harris RSVP'd to the car's launch at Porsche's Leipzig test track (which is adjacent to the Cayenne and Panamera factory) to find out.
It's safe to say that Chris finds himself quite smitten with the driving experience, but he'd really love to see a lightweight, non-hybrid version. Frankly, we'd be curious to see how such a creation would perform, too, but we realize that, like the McLaren P1 and the LaFerrari, the 918 was designed around a hybrid powertrain and thus plays the role of technological showcase and assuager of greenie anger toward its maker. Besides, it's damn fast and sounds like Wagner's subconscious, and by Georg, that's good enough for us.
Source: YouTube
---
---
Comments