2015 Mercedes-Benz S-Class Coupe Signals a Return to Form [w/ Videos]
When Mercedes-Benz introduced its latest S-Class sedan last year, it was no secret that it would soon be spawning a new CL-Class coupe. Except the latest big coupe wouldn't be called a CL; instead, Mercedes-Benz announced it would be folding the model back into the S-Class family, creating much the same arrangement as existed prior to the 1997 model year. And it follows the precedent set by the E-Class Coupe and Convertible, which replaced the CLK range. It's a fairly significant contrast to what BMW's doing, at least when it comes to two-door model nomenclature.
Anyway, the suits in Stuttgart have chosen today to pull the curtain back on the 2015 S-Class Coupe ahead of its in-the-metal debut at next month's Geneva Motor Show. Yes, it does look a lot like the S-Class Coupe Concept that premiered at last fall's Frankfurt Motor Show, barring a few details like conventional door handles and side mirrors replacing the petite show car pieces. Unlike the last three generations of Merc's big coupe, the new S-Class Coupe doesn't look all that tail-heavy, particularly when observed from the front ¾ view. Big bums might work for Kanye's baby mama, but it can be all kinds of cumbersome on a car, particularly one on a two-door coupe. Yeah, some of the detailing (particularly the doors and quarter panels) is on the busy side, and from some angles we (and many other folks) see echoes of the current Honda Accord Coupe, but on the whole, we happen to think this new car is a handsome, sporty shape that looks smaller than it is. It's not classically pretty like the company's C126 S coupe produced between 1981 and '91, but you certainly won't be desperate to splash Clorox into your eyes, either.
Open one of the two long doors and you're greeted with an interior that is certainly similar to that of the S-Class Sedan, but not quite identical. As with the four-door, the upper tier of the dashboard is dominated by a pair of huge TFT screens (the one in front of the driver showing the gauges and other functions, and the center one showing, among other things, the menus for all the HVAC, audio and navigation systems), while the lower tier houses six round HVAC vents (Four in the middle and one on each end.). As you'd expect, top-quality wood and leather abound, though there's only room for four occupants rather than five, and there's a bit less legroom in back due to the shorter 116" wheelbase, which is 3.5" shorter than the not-for-USA short-wheelbase sedan and a whopping 8.6" shorter than the long-wheelbase sedan.
That short-ish wheelbase should translate to impressive agility, but this ride has a clever trick up its sleeve that will fool your rectal accelerometer into thinking it isn't that nimble at all. Dubbed "active curve tilting function," the system employs the Active Body Control (ABC) suspension system, the stereoscopic cameras by the rearview mirror, and a lateral acceleration sensor to automatically lean the car into corners – much like you would a motorcycle – by up to 2.5°. Mercedes-Benz says the system is not intended to allow higher apex speeds, but to reduce discomfort and disruption when negotiating corners. In any case, it sounds pretty cool to us.
At launch, only one model will be available: The S550 4Matic Coupe. As with the S550 Sedan (which is called the S500 in international markets), power comes from a 4.7L twin-turbo V8 rated at 449 horsepower and 516 lb.-ft of torque, while power distribution is handled by a 7-speed automatic transmission and 4Matic all-wheel-drive. Bet on S600, S63 AMG and S65 AMG coupes (as well as diesel and rear-drive variants we almost certainly won't get over here) appearing over the next 12 to 18 months.
As it is, you'll only have to wait until this fall to get your paws on an S550 4Matic Coupe. And if you're one of the many people who take pleasure in broadcasting your early adopter proclivities to the world, Mercedes-Benz will offer you the Edition 1 package which will include, among other things, special headlights containing 47 Swarovski crystals. Expect pricing info to be revealed closer to the car's on-sale date.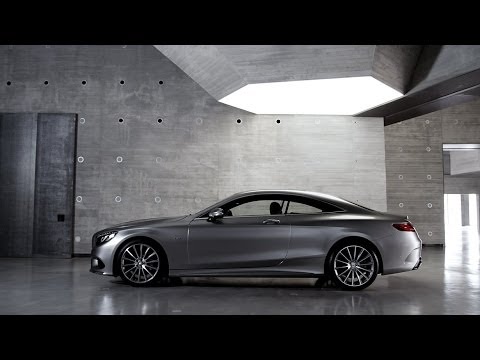 Source: Mercedes-Benz
---
---
Comments